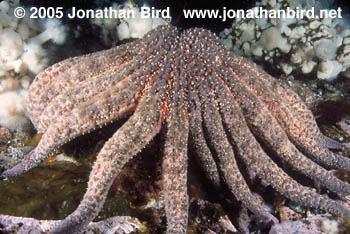 Sunflower sea stars are large predators of the sea floor, reaching arm spans of up to three feet. They are surprisingly fast, voracious hunters for clams, urchins, snails, abalone, sea cucumbers, and other sea stars. Adult sunflower sea stars can move at the astonishing speed of one meter per minute using 15,000 tube feet which line the undersides of their bodies.
The following video uses
time-lapse photography to capture this beautiful animal in hot pursuit of lunch.
Sea stars have two stomachs - one is used for digestion, and the other stomach can be extended outward to engulf and digest prey. The latter is highly specialized, and uses digestive enzymes to liquefy its prey before complete digestion. After protruding from the mouth, the stomach can be stretched so thin that it can fit into the thin opening of a mussel or clam shell! Once the stomach has entered the shell, the digestive enzymes liquefy the prey within its own shell. The liquids are fully digested when the stomach retracts back into the body of the sea star.